What is Roof Washing and Why it's So Important
If your New England roof is plagued with mold and mildew, we can help. We will take care to ensure your roofing stays intact and damage-free while we properly clean your roof and remove the mold and mildew.
Just because you can't readily see mold, mildew or algae growing on your roof doesn't mean you should follow the "out of sight, out of mind" mentality. A dirty roof can wreak havoc on your New Hampshire or Massachusetts  home's integrity and will eventually affect the quality of your indoor air. Do-It-Yourself roof cleaning tactics can result in damaging your roof, and most times, you typically don't end up properly removing the mold, mildew, or algae on your roof.
We have the equipment and skills to have your roof looking new again with our professional, soft wash roof cleaning services. Don't let mildew, mold, or algae ruin your New England home. Call Dan Marcotte in Newburyport, MA today for professional roof cleaning services!
Click here to learn about all of our services.
 High Pressure Washing On Your Roof is NOT Recommended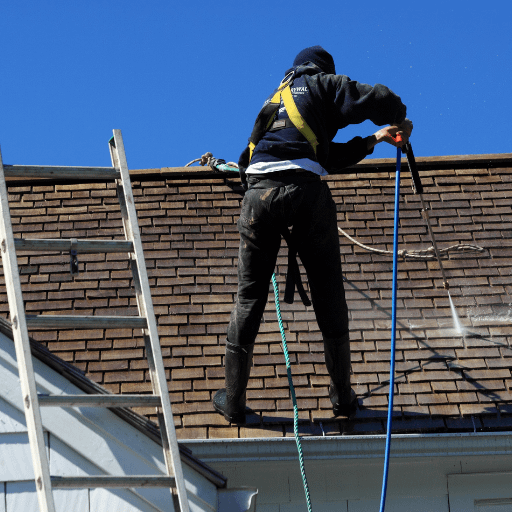 Roof washing, in addition to soft washing your home can significantly raise your curb appeal. Learn more about us here.  
Because of the damaging effect it can have, we do not recommend using high pressure washing to clean your roof. You may come across some companies using high pressure roof cleaning and I would be careful. 
Cleaning with high pressure could lead to damage causing thousands of dollars to repair. Many tools, such as water brooms, roof gutters, pitch witches, and surface cleaners all operate from a pressure washer and may cause harm to your roofing structure.
Now that you know what could damage your roof, let's talk about the right way to clean a roof. We use a Soft Wash technique that is  effective and most importantly, safe for your roof. With a combination of specialized chemicals and detergents, we are able to kill most vegetation and prevent growth going forward.
We are dedicated to providing customers with leading-edge technology and a wealth of experience in delivering safe and effective business practices while on your property. 
Having perfected our soft wash technique for New England roofs we are educated and experienced. In addition to using lower water pressure and the perfect combination of detergents, we leave the solution on your roof without rinsing. Our chemicals do all of the work to remove streaks and discoloration from your roof and require no pressure or heavy rinsing. Leaving the chemicals on the roof creates an effective long lasting treatment, and a hostile environment for algae growth going forward.
Each time it rains, a small amount of chemicals are washed off to help re-clean your roof over and over again. This method will not damage your roof and will have it clean and clear of algae, mold, mildew, and other harmful substances and vegetation growing on your roof.